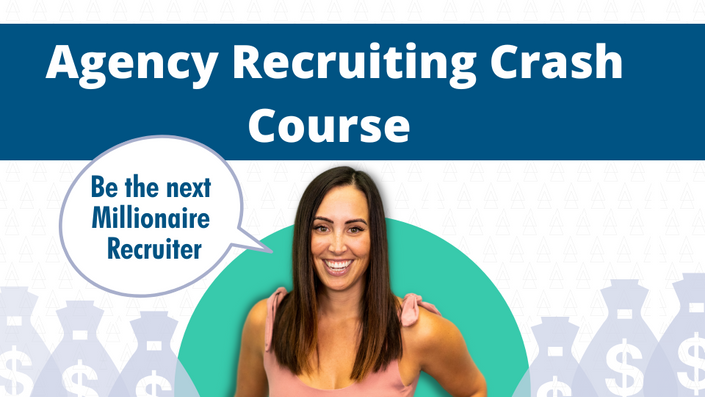 Agency Recruiting Crash Course
Agency recruiting is one of the fastest and most rewarding ways to make 6-figures in your first year. Time to invest in yourself and make a difference!
Enroll in Course
The Millionaire Recruiter
Agency Recruiting Crash Course
Time to accelerate your recruiting career!

What you will learn:
This course will teach you the step-by-step process on how to be a superstar tech recruiter, 10x your commission, and close more deals. We take you from the very beginning of setting up a unique LinkedIn profile, landing clients, understanding job descriptions & resumes, and how to be an effective talent sourcer through advanced searches on LinkedIn. You'll learn how to get more candidates, coach them through interviews, and negotiate offers for them.
Length:
At your own pace. We feel you will hit the ground running after 6 weeks of putting it into practice.
Course Overview:
Introduction to Recruiting
Fundamentals of Recruiting
Introduction to Tech Recruiting
Client Work
Yay! You Landed a Client, Now What?
Introduction to LinkedIn for Recruiting
Advanced LinkedIn for Recruiting
Candidate Experience
Offer Time
The Relationship
Bonus Content - How to be an Efficient Recruiter
Exclusive Materials Included:
Downloadable/printable student handout
Knowledge Checks
Instructor:
Brianna Rooney
Founder
Brianna is the CEO & Founder of multiple successful business ventures including TalentPerch, Techees, and now Thriversity! Her agency recruiting firm was previously listed on the Inc. 5,000 Fastest-Growing Private Companies & team recently Acquired by Affirm.
Inside this Millionaire Recruiter course brought to you by Thriversity, Brianna will teach you how to become a successful recruiter like she has done for herself & hundreds of others. We hope to see you become our next success story!
"If you think a small investment is too much to boost your career, imagine waiting a whole year for a 50 cent raise"
In this self-paced Bootcamp, you get:
Access to a our collaborative support system, a Discord channel where you can network with current students, grads, Recruiting Coaches and Brianna herself - $1,000 value
10 modules with 7 hours of video plus bonus content - $950 value
30 sections of downloadable content, cheat sheets, and assessments to ensure you are learning the information - $500 value
Total value - $2,450
Class Curriculum and Modules:
Thrivers will learn about the foundations of recruiting and the recruiting industry. Thrivers will gain a proper comprehension of recruiting fundamentals that are necessary to build upon the processes, cycles, best practices, and procedures executed by a recruiter.
After this module, you will be able to:
Explain and identify each stage of the recruiting cycle
Start putting recruiting principles and best practices/processes into play
You will have a better understanding of:
The importance of the recruiting cycle
Recruiting averages and industry standards
Recruiting best practices, principles, and processes
Thrivers will be able to speak the industry language and understand industry terms, acronyms, and jargon. They will understand their role in the negotiation process and the importance of their counseling when it comes to their candidate. Lastly, Thrivers will get a wave-top look into VCs and the role they play in securing funds for young companies.
After this module, you will be able to:
Speak the industry language
Navigate the recruiting space, sexy tech in particular
Reference a list of top computer science schools
Be an organized and efficient recruiter
Reference several websites and resources for tech recruiters
You will have a better understanding of:
Industry terms, acronyms, and jargon
Motivations driving candidates to accept offers
Foundational information about venture capitalists
During this module, Thrivers are handed the knowledge required for recruiting and navigating in the exciting and appealing space known as Sexy Tech.
After this module, you will be able to:
Confidently Review job descriptions, resumes, and LinkedIn profiles to find ideal candidates
You will have a better understanding of:
The different roles of software engineers
The computer languages and technologies fundamentals in connection to their software engineer roles
Thrivers will learn industry tips on how to use a variety of searches to uncover client relationships and make connections to secure partnerships. They will be coached on how to create and negotiate fee agreements based on industry standards
After this module, you will be able to:
Feel more confident about attracting, landing, and retaining clients
Know the importance of a client intake to be set up for success for the client's needs

You will have a better understanding of:

How to attract clients
How to negotiate a fee agreement
How to navigate onboarding new clients
Thrivers will learn the steps and importance of creating relationships with hiring managers and clients. They will champion the hiring manager intake through extensive knowledge of job requisitions, roadblocks, and what is important to hiring managers. Thrivers will be equipped with how to utilize a sourcing map to target their outreach using the highest leverage methods.
After this module, you will be able to:
Format client company pitches using a template
Create sourcing maps for each client to level up your searches
Navigate hiring manager intakes
You will have a better understanding of:
Building relationships with hiring managers
Solidify your recruiting processes and systems through the client engagement
Thrivers will expand their knowledge base by applying different sourcing techniques designed to understand emerging trends in sourcing. They will be introduced to the power of LinkedIn Recruiter through searches, Boolean logic, and how to conduct a thorough exploration of the very best candidate profiles. Thrivers will receive a logical perspective of Boolean searches using advanced methods to improve search results. Thrivers will learn the breadth and depth of being a LinkedIn Recruiter and the importance of being able to search faster, connect with candidates, and streamline workflow.
After this module, you will be able to:
Conduct Boolean searches
Create a powerful personal LinkedIn profile
Explore candidate profiles
You will have a better understanding of:
Boolean Logic
LinkedIn Recruiter
Thrivers are given many tools, processes, and strategies to utilize the LinkedIn Recruiter feature. They will understand how knowing a company by language, additional Boolean search strings, how to peruse LinkedIn profiles, and tangent sourcing can increase a recruiter's reach. Thrivers will enhance their communication depth and take their sourcing capabilities to the next level with LinkedIn.
After this module, you will be able to:
Use different sourcing techniques to search for candidates
Write effective InMail messages that hook candidates
You will have a better understanding of:
How to create and launch email sequences
Thrivers learn all about why providing world-class candidate experiences can land top talent. They will be given insight into effective InMail messaging, formatting resumes, general intake, and screening candidates. Thrivers will utilize role-playing exercises to screen candidates through fact-finding questions designed to measure organizational fit. Thrivers will also be introduced to motivators that drive candidates and how to prepare them for interviewing virtually.
After this module, you will be able to:
Complete candidate intakes
Prepare candidates for onsite and remote interviews
You will have a better understanding of:
The frequency of communication needed to maintain a recruiter/client relationship
What you need to do when candidates respond
How to move candidates through the recruiting process
Thrivers will deep dive into the offer and closing processes with their candidates and learn their role in counseling. They will identify the importance of templated follow-up questions and how this communication is essential with current and future candidates. Thrivers will be able to posture themselves for presenting offers to candidates and their role in the negotiation process. Thrivers will gain insight into the many different ways to close a candidate through definitions and mock closing scenarios via phone and email.
After this module, you will be able to:
Confidently present offers to candidates
Negotiate offers for your candidates
You will have a better understanding of:
How to use different closing techniques to help make more hires (close the deal)
Thrivers will understand how to land and maintain clients, manage their ATS, how to use the best tools in the industry to maximize success and the importance of maintaining meaningful relationships with candidates long after the closing process is over.
After this module, you will be able to:
Keep in touch with candidates long after their recruiting process is over
Maintain healthy relationships with past candidates
Manage their ATS
You will have a better understanding of:
Maintaining healthy relationships with candidates
Fostering connections with candidates
Receiving recommendations from candidates
After this module, you will be able to:
Grow as a recruiter
Celebrate your wins (big or small)
Beat the Burnout by recognizing when it is time to recharge
You will have a better understanding of:
Who you are and what you bring to the table as a recruiter
What do success and failure mean to you
Are you ready for a new career?

Are you undervalued and underpaid?
Do you lack fulfillment?
Then the Millionaire Recruiter e-Course is for you!
With the help of Thriversity I have leveled up my previous bootcamp and wanted to make this updated course available on the platform where it all started. Using what I've learned over my 14+ years in recruiting, I've organized a comprehensive course that will enable you to make money as a Millionaire Recruiter, just like me.
Learn how to become a technical recruiter! Get Started with the Millionaire Recruiter Course today!
Your Instructor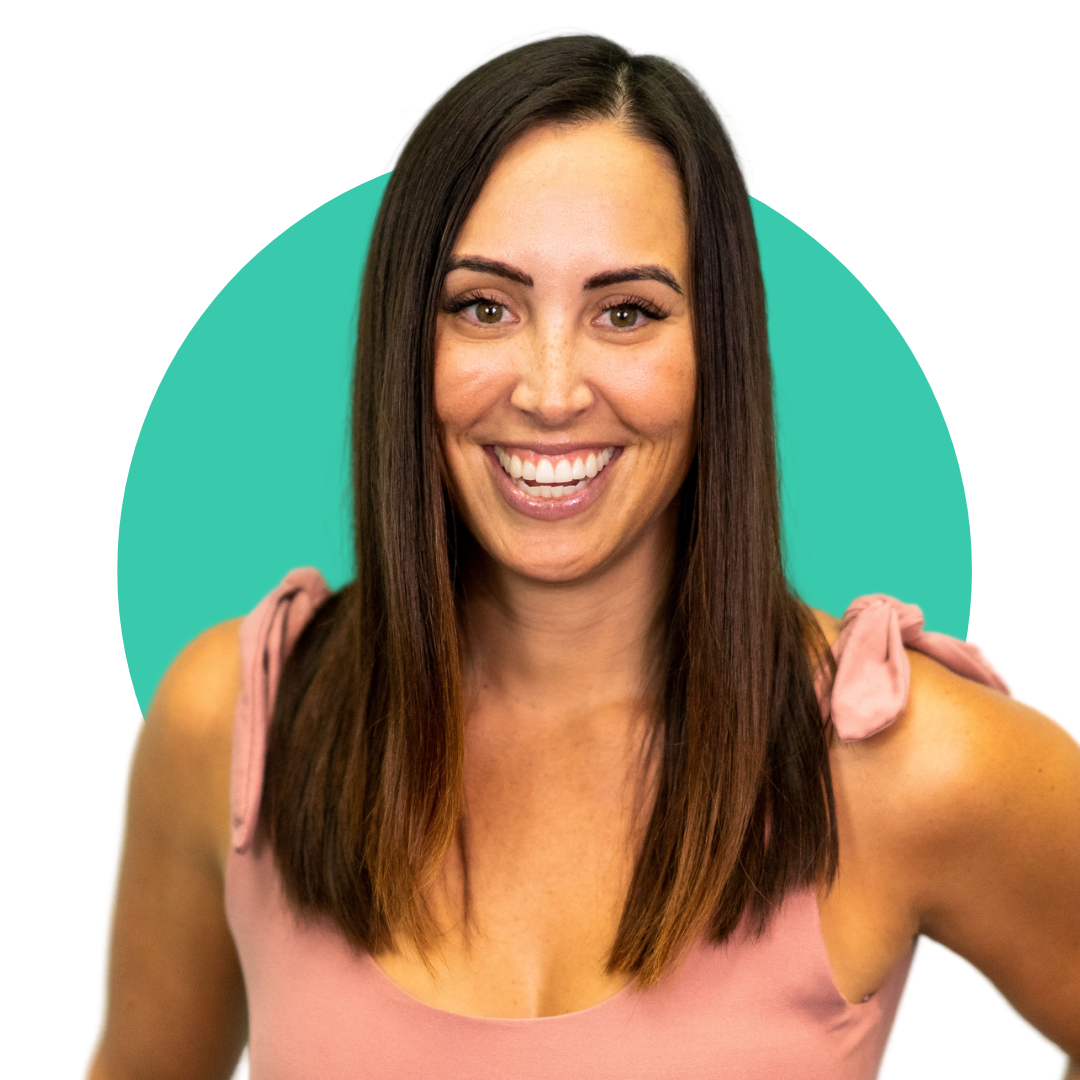 Brianna Rooney
has over 14+ years in the tech recruiting industry and is the CEO and Founder of multiple successful recruiting businesses and a passion for training. With the onset of COVID, Brianna realized that her old Millionaire Recruiter crash course would no longer cut it, so she launched
Thriversity
. With the help of Learning and Development professionals, Brianna elevated and increased her training offerings. She is well on her way to building a support system for recruiters and sourcers that will help change the way the world views recruiting through world-class training. To make her offering as accessible as possible, Brianna has chosen to not only offer it through Thriversity but also on teachable where it all started.
To learn more about Brianna, The Millionaire Recruiter, and her journey into recruiting, check out her
website
and her
YouTube channel
.
Course Curriculum
Welcome to the Agency Recruiting Crash Course!
Available in days
days after you enroll
Module 1: Introduction to Recruiting
Available in days
days after you enroll
Learn more about Brianna Rooney - The Millionaire Recruiter - on Social Media
Website/e-Course:
Twitter:
Facebook:
Instagram:
Frequently Asked Questions
When does the course start and finish?
The course starts now and never ends! It is a completely self-paced online course - you decide when you start and when you finish. My advice is to give yourself 6 weeks. I think that's a good amount of time to learn and practice the material.
How long do I have access to the course?
After enrolling, you have unlimited access to this course for up to a year. Make the best out of this year! Push yourself and keep practicing what you have learned.