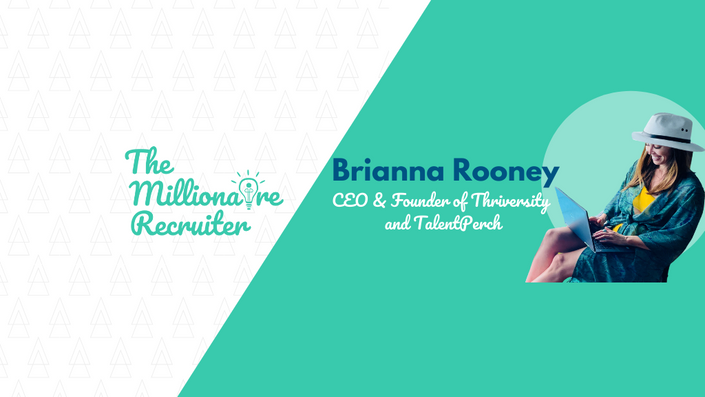 Tech Recruiting Accelerator Course
Make More From Your Recruiting Job
The Millionaire Recruiter
Tech Recruiting Accelerator Course
What you will learn:
This course will teach you the step by step process on how to be a superstar tech recruiter, 10x your commission, close more deals and develop lasting relationships with your clients and candidates. When you recruit the right way, not only will you have more volume, but you'll also have a ton more referrals. You'll learn how to capitalize on every lead at a more efficient pace. You will become more of a career coach than just a recruiter. You will be able to perform better and more thorough searches, and negotiate offers so it makes sense for the client and the candidate.


Instructor & Experts:
Brianna Rooney
Founder
Owns a successful tech recruiting firm in Silicon Valley since 2009, Techees Recruiting. Works with multiple high profile and high-growth clients. A leader in the recruiting world to ensure everyone can be the next "Millionaire Recruiter"
Emily Stellick
Partner
Emily has been recruiting for almost a decade. She has trained countless recruiters that have gone on to have successful careers. Her expertise is recognizing and attaining fast growing clients.
Ben Markowitz
Partner
6+ years as a Lead Tech Recruiter at Techees with expertise in candidate sourcing and relationships. Experience hiring for a variety of startups and large scale companies.
"If you think a small investment is too much to boost your career, imagine waiting a whole year for a 50 cent raise"
In this 6 week Bootcamp, you get:
Email Access to Ask Questions - $250 value
Access to Private Mastermind Group (Network with Other Enrolled Students) - $1,100 value
3 Hours of Video (10 Modules) - $600 value
Downloadable Content & Cheat Sheets - $500 value
Total value - $2,450
Class Curriculum and Modules:
Be the Great Recruiter and 10x your commissions. You first need to be aware of all the things you might not know. I ask some very important questions. If you can't answer those easily, then this course is going to be great for you.
I dig deep and break down all the things you have to really know in order to be the millionaire recruiter. I go over venture capital funding. It's a huge component in the recruiting world that most recruiters don't know enough about. You'll understand why knowing certain things can and will help you with closing.
You will learn how to properly negotiate a fee agreement and learn how to get and handle new clients
We'll go over why you need to have a great LinkedIn profile and how to set yourself apart to get into the top 1%.
Learn how to understand both to start accurately sourcing for right candidates. Important module to maximize your efficiency and day to day work.
Biggest and most technical section. You will learn how to do conduct advanced searches in order to effectively find the right talent. Advanced tips and tricks to uncover candidates. Learn how to use reminders and projects to be the most effective talent finder.
What to do when your candidate gets back. All the different ways to make money from this interaction. Learn how to do an effective intake, get vital information, build rapport. Example of a real intake call provided.
You set up an interview for your candidate. We'll talk about what's normal and what to expect. How you can coach them and offer advice. Example interview intake call provided and learn how to always be closing.
You did it, you're so close to a deal! Learn how to navigate this final stage before making your commission. We'll go over common objections and how to overcome them.
Congratulations! You did it! You're thinking, what more do we have to talk about? Learn how to maximize your payout, get referrals & recommendations. Plus, the cardinal rules of recruiting.
Course Curriculum
Module 1 | Be the "Great Recruiter" and Triple Your Commisions
Available in days
days after you enroll
Module 2 | What Do You Really Need to Know
Available in days
days after you enroll
Module 3 | How to Negotiate a Fee Agreement
Available in days
days after you enroll
DISCLAIMER:
Individual results will always vary and yours will depend entirely on your individual capacity, work ethic, level of motivation, and other factors.
The Millionaire Recruiter and team are not responsible for your actions. You are solely responsible for your own moves and decisions and the evaluation and use of our products and services should be based on your own due diligence. You agree that The Millionaire Recruiter programs are not liable to you in any way for your results in using our products and services.